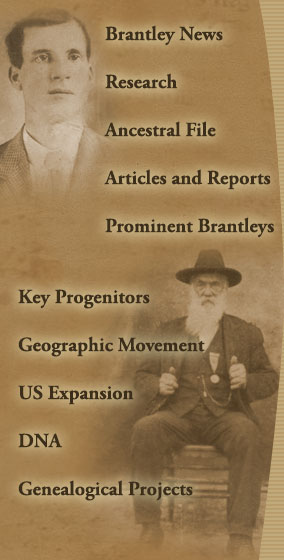 Most genealogist who have done extensive research agree with earlier genealogist that, for the most part, all white American Brantleys descend from Edward Brantly who immigrated to America and settled in Isle of Wight County, Virginia in 1638. His name, Edward, Ed, Edmund, Edgar, etc. has been carried on through many lines for hundreds of years. The family is indeed of a southern people. Even as late as 1850, with the exception of two, all known U.S. Brantley families were either living in or born in the south.

Being inspired by the connection to all other American Brantleys, in 1987, I founded the Brantley Association. I personally collected the entire census records of the white Brantley persons of the United States from 1790 through 1900. In addition I collected and entered into a data base over 3000 marriage records of Brantley persons, most of which were made prior to 1880. I have located and reprinted 55 Brantley wills dating to 1880. Our files include not only my extensive collection of nearly 40 years, but the works of earlier and present day researchers of the Brantley family.

The Brantley Association is a family organization dedicated to genealogical research on the Brantly or Brantley surname, primarily throughout the United States, with the goal of connecting the various Brantley lines to our common ancestor, Edward. In addition, the Association's goal is to provide members with a central organization to exchange genealogical data on the Brantley family and to preserve records dealing with Brantley persons.